© 2005- - Bas van der Noordt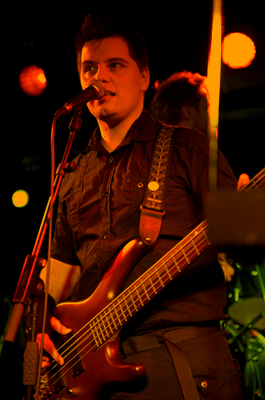 B-sting playing live with Spawnkill
Spawnkill was a Dutch electro-rock band formed by
B-sting
in 2005, although it didn't get its name until 2008. The band disbanded in 2010. B-sting has since started a solo-career as producer/musician and released a lot of new material.
[Visit B-sting.com]
The band intially formed in 2005 when B-sting started collaborating with another musician on a new project to make electronic rock music. In this project B-sting wrote the lyrics and was largely responsible for composing the music.
After writing enough material it was decided to perform live. Two band members were recruited. In the live set-up B-sting sang lead vocals, played bass, theremin and a sampler. A demo was home-recorded in 2008 and in 2009 Spawnkill took the stage with moderate success,
achieving a place in the final of Waterproof
among others.
In 2009 B-sting left the band and started work as a producer/musician on his solo endeavour in which he expanded beyond the limited concept of a rock band and embraced the endless possibilities of electronics. Without his creative guidance, Spawnkill lived on for a while, but finally disbanded in 2010 after internal disagreements.